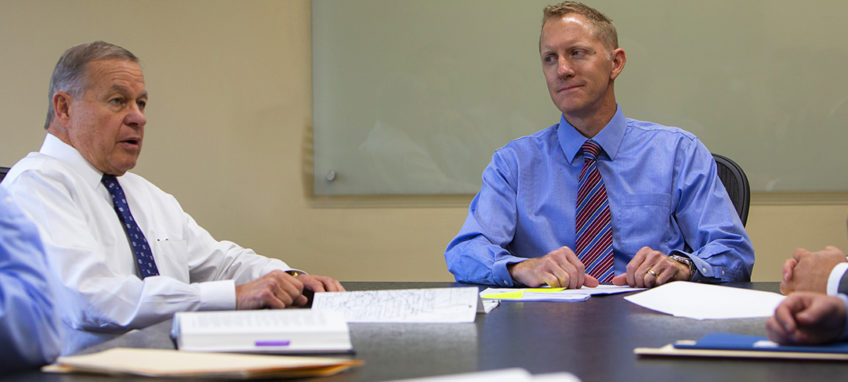 COVID-19: New Days, New Utah Construction Issues.
June 23, 2020 6:46 pm Published by Andrew Berne |
Dear Friends and Clients:
With the upheaval and uncertainty surrounding COVID-19, we know our clients and friends are likely dealing with unprecedented impacts on their work and construction projects. As you face inevitable disruptions, please consider reaching out to us at Babcock Scott & Babcock to discuss the particulars of your situation. We're closely monitoring the effects of the virus, social distancing, and the inevitable economic impact on construction project owners, contractors, subcontractors, suppliers, and design professionals. We are ready to help you.
As you face the weeks and months ahead, here are a few things to keep in mind to assist you in navigating the impacts of COVID-19 on your construction projects:
Open Communication
Be transparent with your employees, clients, suppliers, owners, and anyone who your work affects. Communicate openly the possibility of delays, disruptions, and constant changes. As things change— as they will— continue to maintain transparent, open, and honest communication regarding your work and ongoing obligations. Say more rather than less to avoid conflict and unexpected frustrations. Promptly give verbal and written notice of potential impacts and work diligently, creatively, and collaboratively to find workable solutions.
Document in detail the adjustments and decisions that are being made as you proceed through the coming months. Document changes in contracts, materials, supply chains, employee policies, and pay compensation. We would love to advise you in properly documenting and communicating your ongoing disruptions. Contact us for help in dealing with your unique circumstances.
Workplace Infection Prevention
Maintain a clean and safe workplace for your employees. Avoid touching others or your face. Train and encourage those you work with to engage in frequent hand-washing, increased sanitization of equipment (particularly if the equipment is shared), and maintaining a six-foot "social distance" between employees as much as possible. Also ensure that your employees are properly sanitizing PPE (personal protective equipment), properly disposing of potentially infected safety equipment (masks, ear plugs, etc.), practicing elbow-covered coughs, and where illness is suspected and six-foot distancing cannot be maintained, prohibiting employees from having any form of contact with the workplace. If possible, implement a policy where all employees avoid sharing equipment, technological devices, and other objects where the virus can thrive for long periods of time. OSHA has published thorough guidelines for workplace safety at this time.
Employee Flexibility
Share openly the recommendations, symptoms, and guidelines related to COVID-19 with your employees. It would be wise to remind your employees about the symptoms of COVID-19 and the CDC's recommendations for protection.
Do not allow employees to come to work with any cold or flu-like symptoms, unless explained by another situation (allergies, for example). Explain that staying home will prevent the spread to others in the workplace and minimize a greater, long-term impact on your work. New federal legislation mandates 10-days of paid sick leave for COVID-19 situations. It is in your best long-term interest to have employees stay home if sick at all.
Send employees home who exhibit symptoms, including fever, and insist employees remain home for 14 days if they have had contact with confirmed COVID-19 cases. This may include your entire workforce if someone within your cohort gets sick.
Allowing flexibility through this upheaval will foster goodwill with your employees. Consider creative pay and leave solutions to maintain good relationships and a safe workplace. Recognize that employees may need to stay home or adjust hours to care for sick family members or children out of school.
Employee recommendations are in constant flux. Continue to visit the CDC website to see the current guidelines for your particular area. We would love to advise you on the particulars of your situation; feel free to call us.
Supply Chain & Contract Adaptation
Materials supply chains will likely see dramatic delays and disruptions. As a project team, including owners and design professionals, think ahead and be prepared to adapt with potential delays on critical materials. Be willing to find acceptable replacement materials as needed where material production has been halted altogether. Your best defense is to plan and think ahead as best you can— noticing and inquiring about material supply issues before it is urgent.
Immediately identify any contracts that are or will be affected by the COVID-19 situation. Review these contracts to identify a force majeure clause, which refers to a major event outside the control of any contracted parties. This clause will outline the rights, obligations, and remedies arising out of force majeure events, which COVID-19 will likely be considered. If your contract does not include a force majeure clause, you may still be entitled to protection as force majeure is a general contract law principle, although the details may apply differently under various circumstances. In making decisions and assessing your specific contract needs, Babcock Scott & Babcock is here to advise and counsel with you on the particulars of your contract.
Paycheck Protection Program under the CARES Act
Small businesses affected by COVID-19 are entitled to protection under the CARES Act. The 7(a)-loan program is the Small Business Administration's (SBA) primary program for providing financial assistance to small businesses. The Coronavirus Aid, Relief, and Economic Security (CARES) Act provides relief for small businesses who are adversely affected by the outbreak of COVID-19. The cornerstone provision is the "Paycheck Protection Program," an emergency lending facility, administered by the SBA under its 7(a) lending program, to provide small business loans on favorable terms to borrowers impacted by the current state of economic uncertainty.
The Paycheck Protection Program provides businesses with 500 employees or less with partially forgivable loans that can be used to cover short-term operating expenses during the economic crisis. The maximum loan size is equivalent to 250 percent of the employer's average monthly payroll costs (e.g., roughly 10 weeks of payroll expenses) or $10 million, whichever is less. Payroll costs are defined broadly to include wages, salaries, retirement contributions, healthcare benefits, covered leave, and other expenses. Starting April 10, 2020, independent contractors and self-employed individuals can apply for and receive a loan by completing a loan application and submitting it with your local bank or a qualified SBA lender. Consult with your local bank or credit union or visit www.sba.gov for a list of qualified SBA lenders.
The impact of COVID-19 is unprecedented in so many ways, worldwide. But we are prepared to help you navigate the conflicts and disruptions that you are certainly facing. Please reach out to us to discuss how we can build solutions with you.
Sincerely, Babcock Scott & Babcock, P.C.